How to Improve the In-Office Teeth Whitening Experience

Expert Insights: An Interview with Troy Schmedding, DDS, AAACD
Discover why Dr. Troy Schmedding of Family Dentistry of Walnut Creek invested in the TheraSmile® system and how it compares to other in-office teeth whitening technologies.
Can you provide some background on your professional experience and your practice?
I've been practicing dentistry now for close to 30 years—which I find incomprehensible as I write this. Over that span of time, one thing has never changed for me and that's how I approach my dentistry. My practice has always been very patient-oriented, and I view each and every one of my patients as family.
My practice is focused on a comprehensive approach to patient care with a strong emphasis on aesthetics and function, and we've created an atmosphere of caring and openness so that patients feel comfortable expressing concerns. Curating this open environment has allowed us to adjust the treatments we provide to best serve patient needs over the years.
Why did you initially stop offering in-office teeth whitening to your patients?
The simple answer is that we were failing the patient.
I pride myself on offering a top-notch patient experience and with previous in-office whitening treatments, we were achieving a less than desirable result through an uncomfortable experience. Patients were having extreme sensitivity with their teeth to the point of needing medication, and I just felt it was not the right dental technology for my practice or my patients.
What led you to ultimately decide to bring in-office whitening back into your practice after you stopped offering it to your patients?
My patients continued to ask for in-office whitening, and I was resistant to it—until I saw the TheraSmile system and its unique approach to whitening. After investigating it deeper and gaining a better understanding of the technology, I knew that I needed to try it.
Truthfully, the previous and even current generations of in-office bleaching cannot compare to TheraSmile. It was very apparent to me even after just the first treatment using TheraSmile that this is what I wanted for my practice. There are very few procedures that dental offices provide that patients truly get excited about and fortunately for myself and my practice, we have found one of those services. People are enjoying and even asking for TheraSmile, and it's a great feeling to know we're giving our patients the best.
With TheraSmile®, there is no more sensitivity, and I have happy, smiling, satisfied patients.
How has the ioWave™ technology impacted your patient experiences and results?
It has tremendously impacted the experience! This new teeth whitening technology offers dynamic fluid delivery in a closed system that changes the game in post-treatment sensitivity; there is no more dehydration like what we experienced with other in-office options.
With the ioWave™ technology, the teeth are continually hydrated, and this has turned a bleaching treatment into a spa-like experience for my patients.
For more insights from Dr. Schmedding, take a look at Unique Whitening System Helps Reduce Sensitivity
How do the MavGuard® and ArmorLC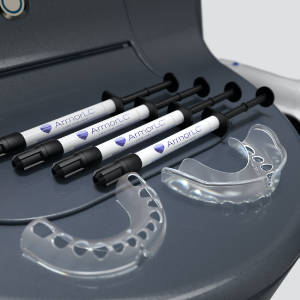 ® improve the overall patient experience during treatment?
Honestly, both are truly game changers for teeth whitening. Patient comfort is a huge priority for me, and MavGuard® and ArmorLC® are two integral components of ensuring a good patient experience. Combined, they provide gingival isolation and protect gingiva from "tissue burn" that can occur during bleaching, ultimately preventing potential side effects that could increase patient discomfort.
These two innovative products are simple, easy to apply and seal off the soft tissue. Plus, MavGuard saves preparation time and hassle when compared to the old ways of dental dams.
How has TheraSmile's automation impacted the workflow and efficiency of your office staff?
TheraSmile's automation has allowed my staff and me to take a hands-off approach to teeth whitening. There really isn't anything for us to do except occasionally check in on the patient. Overall, this allows us to see more patients throughout the day, as we aren't held up monitoring the whitening treatments.
Discover how the TheraSmile® Whitening system can improve practice economy through New Technology Brings New Practice Revenue: A Whitening Success Story
What recommendations would you give to other dentists on the most effective ways to incorporate teeth whitening into their practices?
The most effective way is to just start to talking to your patients about teeth whitening. From what I've found, many patients are interested in teeth whitening, so knowing what you can help them achieve in a simple, comfortable and effective way will create buzz and allow you to grow this offering.
Once patients have gone through the TheraSmile Whitening treatment, they start to look at their teeth differently and begin to ask more questions on what they can do to make their smile even greater. It's through those conversations that more and more dentistry is created, and your patients' eyes can be opened to new things they didn't realize were possible.

Take Back Teeth Whitening
The TheraSmile system is a uniquely automated whitening technology that dynamically delivers whitening fluid for 360-degree* whitening—bathing buccal, lingual and occlusal enamel surfaces of the upper and lower teeth. This effective technology can provide your patients with full hydration of the teeth throughout the entire treatment and offers immediate results. Plus, through the utilization of our MavGuard gingival guard and ArmorLC resin, you can provide a more comfortable patient experience with complete gingival isolation.      
Learn how TheraSmile can deliver better results for your patients and enhance profitability for your practice by scheduling a consultation today.  
Troy Schmedding, DDS
Dr. Troy Schmedding is a 1993 honors graduate of the Arthur A. Dugoni School of Dentistry in San Francisco, California. He maintains a private practice in Walnut Creek, California, where he focuses on aesthetic and functional dentistry. An accredited member of the American Academy of Cosmetic Dentistry, he lectures both nationally and internationally on aesthetics and restorative materials. Dr. Schmedding also serves as a key opinion leader for numerous manufacturers, helping develop and bring new products to market.
*From 1st molar to 1st molar
All Insights